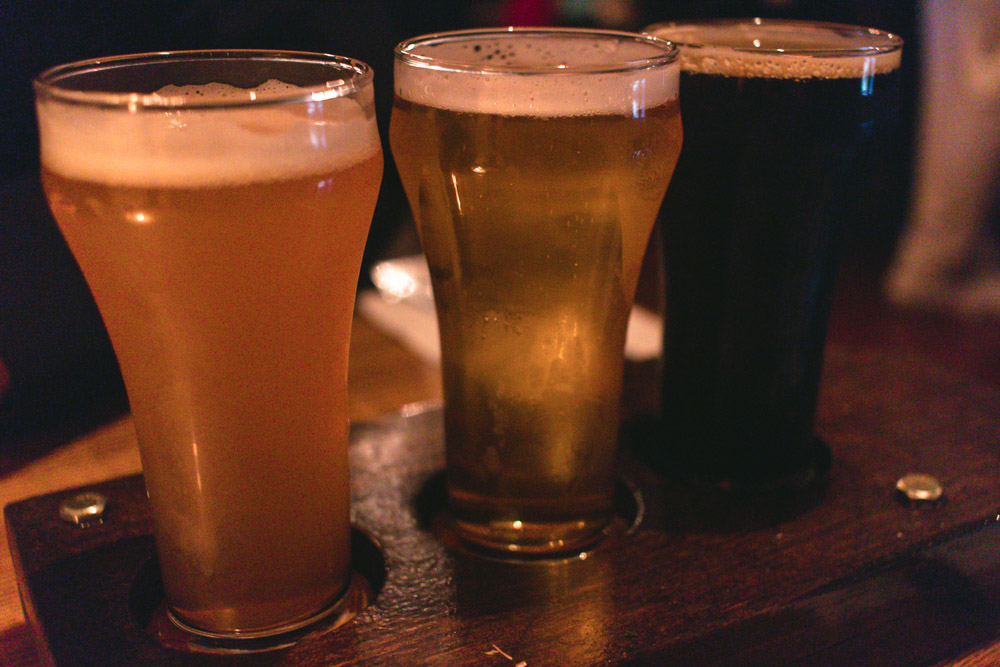 a cozy gastropub with ambiance
Wharf Pub
Newport, RI
This small gastropub is easy to miss. In fact we walked right by it--twice. The restaurant space is very cozy with dim twilight lighting. Staff was super friendly and very attentive. We even joined in with the Thursday night bingo (only a $1 buy-in!).
Drinks
-Water: refilled regularly.
-Wormtown Brewery Beer Flight: all four were quite good, especially the Porter.
-Oyster Shooters: quite delicious with a sweet aftertaste.
Appetizers
Tater-Tots, the real reason we actually came to this particular pub. We got the truffle flavour and boy, they did not disappoint. Served in a miniature cast iron pan, with a little over a dozen TTs in total. The flavour was rich and heavy. No overly greasy lingering on the tongue like some TTs I've had in the past. Biting into each one brought a satisfying crunch. The housemade dipping sauces paired up amazingly with the TTs. Overall: if you come here, get the TTs, they're worth the money.
Entrees
Fried Chicken & Waffle (Natalia) - Fucking delicious. The chicken was hot and juicy with a proper crunchy exterior. It was not over battered and I didn't receive pathetic chicken strips (always a disappointment when I see that served with FC&W). The waffle was served up in a cast iron pan as well. A softer waffle than I'm used too, but the flavour was spot on, not overly sweet. Served with a cup of maple syrup (which was the real deal according to my palate). The combination of eating the chicken and waffle together with a light drizzle of maple was heavenly. Sweet and savory balanced expertly.
Fish & Chips (Debra)
Since I'm on the East Coast, I gotta get me some seafood! These fish and chips were TASTY. The two pieces of fried fish were juicy inside and had a delicious crispy outside. The homemade tartar sauce paired so well with the fish that I could just eat the sauce itself! I'm not much of a coleslaw person, but I still took a bite and concluded that I am still not a coleslaw person, yet I appreciated the taste. The chips though! Can we just talk about how crispy they were, and how I just wanted to eat them forever. This entire plate was hella solid- nothing like fried goodness to help me enjoy life!